The Effectively Simple Sweeper Truck Company
Keeping streets and parking lots clean and debris-free is a challenging task that requires specialized, heavy-duty street sweeping equipment. A sweeper truck from Stewart-Amos Sweeper Co. is the right machine for the job. Our trucks and mechanical brooms save time and deliver reliable results on all types of services. And with our expansive product line, you are sure to find the right street sweeper truck for your surface and cleaning applications.
At Stewart-Amos Sweeper Co., we build every sweeper truck to the highest quality standards that incorporate our effectively simple design criteria.  With ease of operation, service and maintenance in mind, we engineer and select each component and system to be rugged, reliable and uncomplicated while providing for the most effective and highest sweeping performance.
Our sweeper driver of 20+ years was asked how he liked the new Galaxy R-6 sweeper we purchased. He replied, "The Galaxy R-6 is reliable, easy to maneuver machine and does the same job as our bigger machines at a fraction of the cost."
I personally know that we use less fuel and the annual maintenance cost is lower. I would definitely purchase another Galaxy R-6 sweeper when the time comes.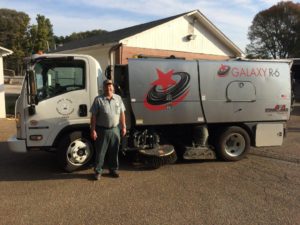 We couldn't be happier with our friends at Stewart-Amos Sweeper Co. They build street sweepers that are extremely easy to operate, troubleshoot and maintain. Parts orders are shipped fast and their technical assistance is excellent.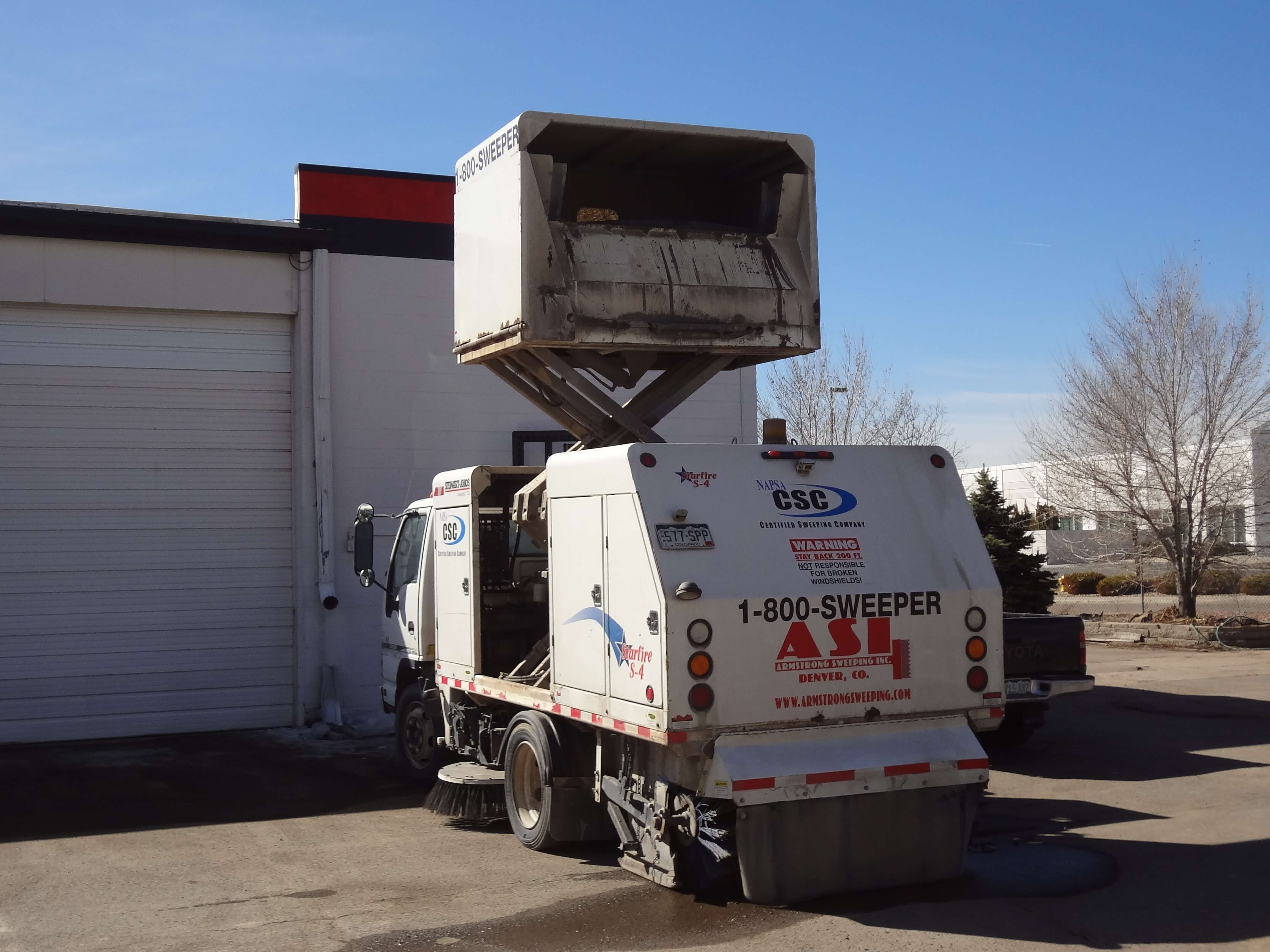 Having been in the sweeping business for over 25 years, it is truly a pleasure to deal with a company that displays a genuine interest in serving their customers. And the service continues beyond the sale – when I need repairs or replacement parts the team at Stewart Amos goes above and beyond to accommodate my request. I purchased a Starfire S-4 in 2010. The following year I didn't hesitate purchasing a Galaxy R-4. When it comes time to add to our fleet again, I will definitely return to Stewart Amos.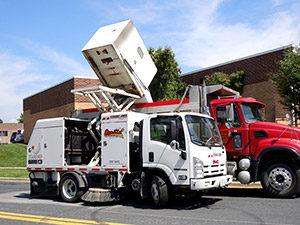 Mechanical Broom Street Sweeper Models
One of our most popular street sweeper brands is the Starfire sweepers. These sweep trucks are designed for effectively cleaning large volumes of bulky or heavy debris in a single pass. We make 6 models of Starfire Mechanical Broom Street Sweepers in 4, 4.5. 5, & 6 yd3 capacities. Two models are mounted on NON-CDL chassis. Two are available in single-engine versions. Non-CDL models include the Starfire S-4c and S-4XL.
Model sizes differ to fit various chassis sizes, but all share a high percentage of parts compatibility. This helps us ensure the high level of parts availability our customers have come to expect.
All Starfire sweeper brand models are designed with unique features to make your sweeping tasks safer, easier and more cost-effective, including an innovative third-shaft system that offers multiple benefits:
Longer chain life:

The additional shaft enables a looser chain that reduces the impact of wear and tear.

Reduced maintenance expenses:

The extra adjustment points reduce wear, lowering your long-term upkeep and ownership costs.
Enhanced performance: By optimizing chain spacing and reducing clogging, the third-shaft design delivers more reliable large-debris sweeping results.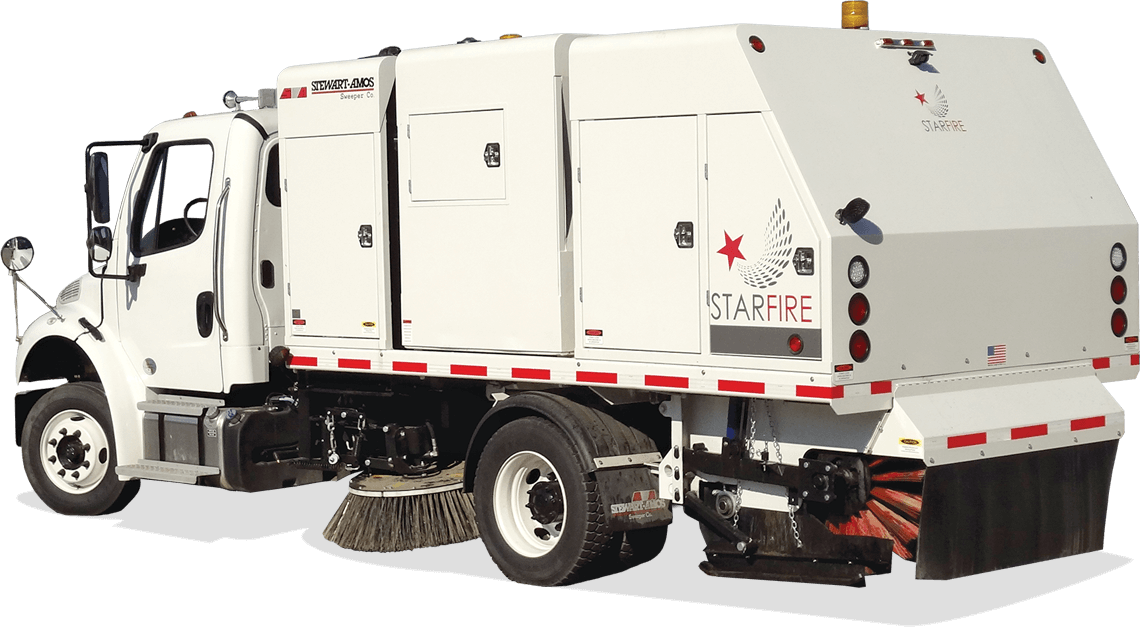 Starfire machines are an excellent choice if you need to sweep away the various types and sizes of debris typically found at construction sites, gutters and highways. They also provide a more efficient alternative to other sweeper types that are susceptible to clogging when removing larger, bulkier items.
Regenerative Air Street Sweepers
Our Galaxy line of street sweepers for sale deep cleans road surfaces by blasting fine particles and smaller debris from small crevices or hard-to-reach spots. These regenerative sweepers can push and pull air to generate maximum sweeping performance. They can offer an ideal solution if you need a reliable street and parking lot sweeper combination that makes the job safer, easier and more cost-effective.
We make 3 models of Galaxy Regenerative Air Street Sweepers mounted on highly maneuverable, non-CDL chassis ranging from a 4.65 to a 6.12 yd3. All Galaxy street cleaner truck models are non-CDL including the R-4, R-6, and the R-6XL.
All 3 models offer bolt-together stainless steel hopper panels, 5-year no-rust through hopper factory warranties, & hopper top access doors that make screen cleaning faster, easier, & safer. Like the Starfire, all Galaxy sweepers share a high percentage of parts compatibility for superior parts availability.
Why Make Us Your One-Stop Sweeper Truck Supplier?
At Stewart-Amos Sweeper Co., we have been offering high-quality street sweeping equipment since 1947. We focus on providing effectively simple products featuring uncomplicated parts and components that make them easy to maintain and repair. You and your crews will spend less time on sweeper truck upkeep and more time on what matters most — keeping streets and parking lots clean.
We also make our street and parking lot sweepers easy to operate. Whether the job requires cleaning airfields, ports, military bases, warehouses, manufacturing properties or any other expansive area, you will be able to maneuver the equipment with minimal effort and complete your cleaning projects faster and more efficiently than ever.
Complete Support From Our Extensive Dealer Network
Stewart-Amos Sweeper Co. sweeper trucks are available via our network of street sweeper dealers spanning multiple states. We're a street sweeper company that works closely with our partners to support equipment buyers by offering easy access to parts and services and various training resources to help you get the most out of your sweeper and maximize its life span. We are proud of our record of shipping 95% of factory parts the same day our customers order them.
You will also appreciate working with a smaller company that delivers the personalized service you deserve.
Model Number
Sweeping Path
Chassis GVWR
CDL Required
Hopper Capacity
Dump Height*
Water Capacity
S-4c
10′
19,500 lbs
NO
4 yd3
16″ – 132″ (11′)
200 gal
S-4XL
11′
26,000 lbs
NO
4.5 yd3
17″ – 144″ (12′)
330 gal
S-4XXL
11′
33,000 lbs
YES
4.5 yd3
17″ – 144″ (12′)
330 gal
S-5s
11′
33,000 lbs
YES
5 yd3
15″ – 144″ (12′)
350 gal
S-5t
11′
33,000 lbs
YES
5 yd3
15″ – 144″ (12′)
350 gal
S-6s
12′
33,000 lbs
YES
6 yd3


top loading

15″ – 146″ (12'2″)
350 gal
S-6t
12′
33,000 lbs
YES
6 yd3


top loading

15″ – 146″ (12'2″)
350 gal
*chassis dependent