Construction Street Sweeper
Keeping your construction site clean provides several benefits. Dust and other debris that leaves your construction area can contaminate our water and ecosystems. Most cities in the United States have significant storm drain regulations for construction sites. With a trusted construction sweeper, you can stay within code and protect your employees.
Stewart-Amos Sweeper Co. has dedicated years to the sweeper industry. We have developed construction street sweepers to help you meet the requirements for a safe construction zone.
Three Construction and Gravel Sweepers
Construction dust removal can be a simple process with the help of our Starfire street sweepers. Much of the debris from construction sites are small, finite materials like dust, sand or gravel. Our mechanical boom sweepers pick up these particles, allowing you to adhere to codes that protect our streets, air and waterways. Find out more about three of our Starfire construction sweepers:
1. Starfire S-4c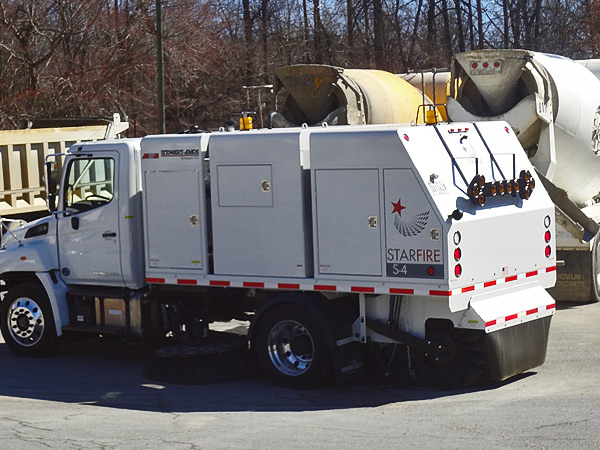 Starfire S-4c mechanical brooms are 4 yd3 with a cab-over chassis. Because of the compact size, this construction sweeper works well in tight spaces in or near construction zones. You can choose whether you want the hopper to dump to the left or the right. The Starfire S-4c has an auto-pivoting elevator that can move up to 10 inches to avoid permanent obstructions. The 59 horsepower Kubota engine maximizes fuel efficiency while minimizing noise.
2. Starfire S-5s
Starfire S-5s construction and gravel sweepers are powerful and reliable. This truck is available in either a conventional or cab-over chassis. The hopper is a full five yd3, allowing you to collect a significant amount of construction debris without dumping. You can extend the hopper to up to 12 feet. All of our Starfire vehicles, including the S-5s, come with in-cab review cameras to optimize use.
3. Starfire S-6s
Our Starfire S-6s is mounted on a full-size commercial chassis. You can use this product for jobs of any size, though it works particularly well for large or intensive applications. Chassis power take-off (PTO) controls all of the components on this single-engine sweeper. It also has a third shaft for chains, which helps lower maintenance costs and extend the lifespan.
Contact Stewart-Amos Sweeper Co. About Our Construction Sweepers for Sale
Stewart-Amos Sweeper Co. mechanical brooms work diligently for construction site sweeping. Whether you need to remove dust or larger debris, a Starfire sweeper can meet your needs. We design our sweepers to be simple, usable machines that exceed your expectations. Our Starfire trucks are easy to take care of with affordable parts.
As a smaller business, we will work with you to help you find the construction sweeper that fits your operations. All of our trucks are certified to protect air quality. We make our products available through GSA and HGAC contracts as well. Stewart-Amos Sweeper Co. is a North American Power Sweeping Association (NAPSA) gold partner.
Contact us online for more information or to request a demo. You can reach out to speak to one of our representatives by phone at 800-482-2302.
Last Updated on November 30, 2021