Parking Lot Sweeper Trucks for Sale
Keep your parking lots in top shape with the help of a sweeper truck. Our top-of-the-line Galaxy air sweepers allow you to increase curb appeal and lot lifespan.
Our Three Parking Lot Vacuum Sweepers
Many industries use parking lot sweepers to clean their space. Government and office buildings, hospitals, sports stadiums and more require clean parking lots. While you might think of lawn and building care as part of your exterior appearance, parking lots also play a significant role.
Regenerative air sweepers are an ideal solution for parking lots. Customers, patients and employees who enter a well-maintained parking lot feel happier and safer. You can extend your pavement's life and prevent other damages with a parking lot cleaning truck.
1. Galaxy R-4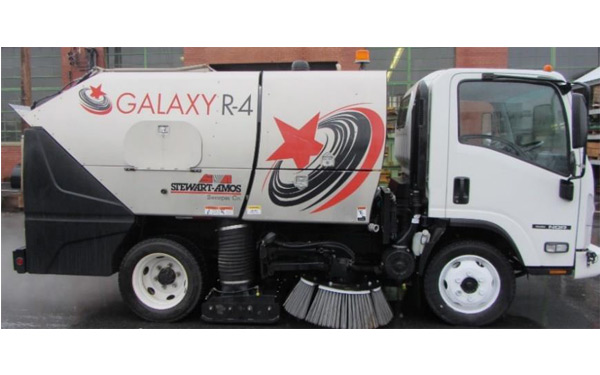 Our Galaxy R-4 regenerative air sweeper works significantly well for clearing debris from your parking lot. You will find a cab-over chassis that allows for more maneuverability with up to 18 feet of a turning radius. Our mid-sized parking lot sweeper is easy to use so you can tackle any job. The hood has maximum airflow with a three-zone pump system for dust-free cleaning.
2. Galaxy R-6
The six yards3 Galaxy R-6 parking lot sweeper is a powerful vehicle that works well in any parking lot. Our Galaxy R-6 is efficient and straightforward to increase productivity. We have included electric diaphragm pumps that help the vehicle have a long service life.
You can sweep forward or in reverse with the built-in "Hoods-Up Litter Gulper." With a 74-horsepower engine, you can have a quiet ride while maximizing fuel efficiency. The Galaxy R-6 cab is equipped with a console light and an adjustable control panel to enable use at any time of day or night.
3. Galaxy R-6XL
The Galaxy R-6XL is the largest parking lot sweeper from our Galaxy line. It has a blast orifice hood to promote efficient airflow for deep-cleaning all of your parking lots. The Galaxy R-6XL has a 6.12 yd3 hopper, which lets you store more collected materials. Our Galaxy R-6XL comes with a 30-inch high-pressure steel fan that helps you effectively gather debris and backup cameras to maximize ease of use.
Buy Parking Lot Sweepers From Stewart-Amos Sweeper Co. Today
We designed our regenerative parking lot vacuum sweepers to work hard for you. With simple, powerful features, you can get inside and start working without dealing with complex systems. Each of our Galaxy trucks is easy to maintain with affordable, off-the-shelf materials.
Since Stewart-Amos Sweeper Co. is a small company, we have flexibility in getting you any products that you need. Our Galaxy parking lot sweepers are certified to protect air quality. We have GSA and HGAC contracts. We are also a gold partner with the North American Power Sweeping Association (NAPSA).
Get in touch with us online or call us at 800-482-2302 for more information about our Galaxy sweepers.
Last Updated on November 30, 2021