Commercial Street Sweepers
Every street, road, parking lot and paved surface needs street sweeping services. That's why Stewart-Amos Sweeper Co. offers mechanical brooms and regenerative air sweeper models that take your business to the next level with effectively simple technology. Whether you're an independent contractor, own a fleet of sweeper trucks or work for a municipality, we have a machine that will get the job done.
Owning a high-quality sweeper truck is an investment that can boost your business, positively impact the environment's health and keep your neighborhood clean. The Stewart-Amos team is here to help you find a sweeper truck that will please your clients and make your business more productive.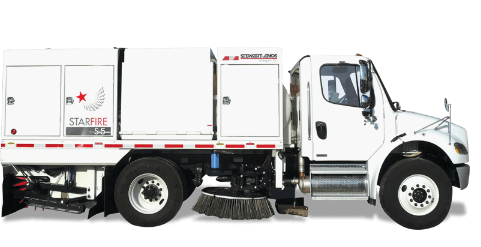 Commercial Street Sweeper Truck Benefits
Any organizational investment is a calculation of cost and profit. Sweeper trucks can work for you to build your reputation with productivity and speed. There are several benefits of purchasing a commercial street sweeper truck:
Quality control: When you own a sweeper truck, you can ensure it remains in five-star condition with responsible operators. Sweepers should be inspected before each job to ensure they're running correctly.
Business expansion: Street sweepers typically operate at night when people are less likely to be on the road. That means you can expand daytime business operations with low maintenance streams of income at night.
Sole ownership: Ownership of a sweeper truck means you repair, modify and sell the truck at your own discretion. Leasing and renting options limit your ability to expand your business and spend your assets when needed.
Mechanical Brooms and Regenerative Air Sweepers
The Stewart-Amos Sweeper Co. offers the Starfire line of mechanical broom sweeper trucks and the Galaxy line of regenerative air sweeper trucks. It is important to find a solution that fits what you need to accomplish. The mechanical broom breaks down bulky debris with abrasive action. Then, it flicks the debris onto a conveyor belt and into the hopper for removal. This machine is ideal for heavy debris, especially in colder temperatures when you need to tackle snow removal products and sand.
The regenerative air sweeper truck is a highly efficient solution for capturing fugitive dust and contaminant materials on an ultrafine level. For example, industrial plants create dust that accumulates on the surface of the pavement. A regenerative sweeper sweeps and contains this dirt without using exhaust vents that would rerelease it into the air.
At Stewart-Amos Sweeper Co., we will walk you through the journey to choose between the Starfire and Galaxy line of sweeper trucks for your next project.

Find Your Street Sweeper Solution From Stewart-Amos Sweeping Co. Now
Stewart-Amos Co. believes in creating sweeper trucks that are simple and effective. That means we have off-the-shelf parts ready at our network of local dealerships when you need to make a repair. We also have maintenance services available to you at our dealers so you'll always find a mechanic who has experience working with your machine.
Want to start your journey toward better sweeping? Receive a demo by reaching out to us online or give us a call at 800-482-2302 to get connected with the team.