Road Sweeper
Stewart-Amos Sweeper Co. has several road cleaning trucks for everywhere from big cities to small neighborhoods. Clear litter, leaves, dust and more using one of our road sweepers today.
5 Street Cleaning Vehicles
We manufacture our road cleaning trucks at Stewart-Amos Sweeper Co. Use our Galaxy regenerative air trucks or Starfire mechanical broom vehicles for street cleaning.
1. Galaxy R-4
The Galaxy R-4 regenerative air sweeper has a cab-over chassis for increased maneuverability. We designed the hood for maximum airflow that works well for deep cleaning roads. Whether you need to use it on narrow downtown streets, main roads or anywhere else, the Galaxy R-4 can work for you. Our easy-operation vehicles require reduced effort for maintenance.
2. Galaxy R-6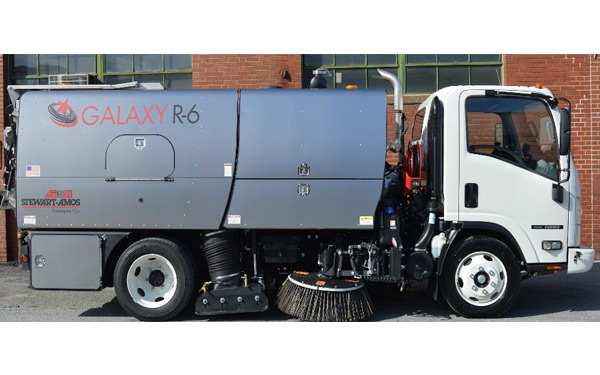 The Galaxy R-6 is six yd3 and also highly maneuverable. We design each Galaxy vehicle with simplicity in mind, all the while helping you increase productivity. Use this road sweeper for cul-de-sacs, alleys and everything in between. Operate in both forward and reverse with the help of the "Hoods-Up Litter Gulper."
Our vehicles are quiet in the streets and allow you to work without disturbing residents and neighborhoods. We installed backup cameras to make your movements easier and safer.
3. Galaxy R-6XL
Our Galaxy R-6XL is the biggest road cleaning truck from the Galaxy line. With the 6.12 yd3 hopper, you can collect more materials and take less time dumping them out. We use a three-zone pump system to prevent dust during the sweeping process. It has a quiet Kubota engine to increase fuel efficiency for medium and large road cleaning jobs.
4. Starfire S-4c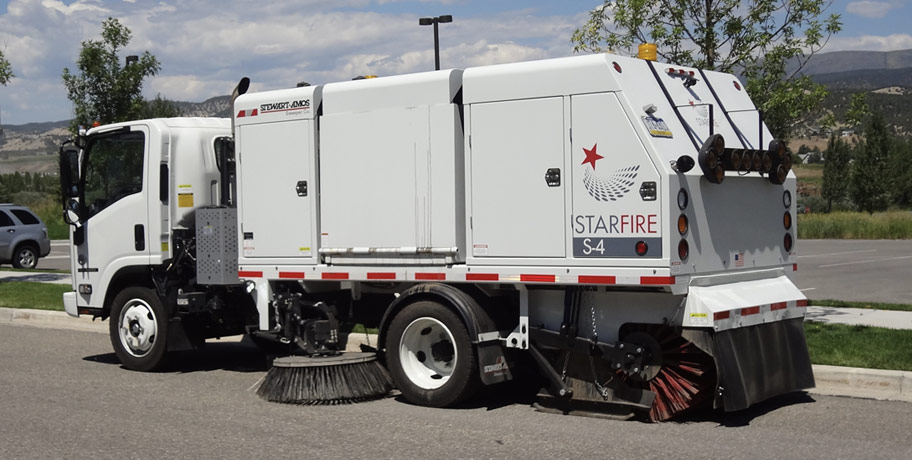 The Starfire S-4c is a mechanical broom truck from Stewart-Amos Sweeper Co. Like the Galaxy trucks, the Starfire is mounted on an easily moved chassis. These vehicles are a compact solution for crowded and narrow streets. The Starfire S-4c elevator automatically pivots to avoid permanent fixtures. Each model has a 36-gallon fuel tank.
5. Starfire S-5s
Another road sweeper from our Starfire collection is the S-5s. The sweeper is mounted on a cab over a conventional chassis. It has a five yd3 hopper and a controllable sweeping path. You can use the quad scissor lift for the hopper for easy dumping. Our Starfire S-5s have a rugged design for continual wear and tear, accommodating your long-term use.
Road Cleaning Trucks for Sale at Stewart-Amos Sweeper Co.
At Stewart-Amos Sweeper Co., our teams design our Galaxy and Starfire road sweepers to work simply and effectively. We want you and your team to be able to hop into the vehicle and start working right away. We designed our trucks to have easy maintenance to help you maximize your uptime.
As a smaller company, we have the flexibility to work with you to get you the products you need. Our road sweepers have air quality certifications. We work with a GSA contract and HGAC. Plus, we are considered a gold partner with the North American Power Sweeping Association (NAPSA).
For more information about our road cleaning trucks, contact us online or by phone at 800-482-2302.
Last Updated on November 30, 2021