Regenerative Air Sweeper Trucks
Are you looking for high-performing equipment to sweep dust and dirt from streets or parking lots? A regenerative air sweeper can handle the challenge. These machines use a controlled blast of air to dislodge debris from the surface, enabling you to clean large areas quickly and efficiently.
Regenerative air street vacuums are an excellent choice for your everyday sweeping needs. They provide a wide cleaning path and can remove smaller debris more efficiently than other machines. They are:
versatile
cost-effective
easy to maintain
These benefits make vacuum sweeper trucks a preferred choice of contractors, municipalities and government agencies.
Your One-Stop Regenerative Air Sweeper Headquarters
If adding a regenerative air sweeper to your equipment fleet makes sense for your business or organization, Stewart-Amos Sweeper Co. has the right machine for the job. Our advanced Galaxy vacuum sweeper truck product line offers reliable, cost-effective solutions for blasting smaller particles and debris from cracks, crevices and hard-to-reach areas on roadways and parking lots.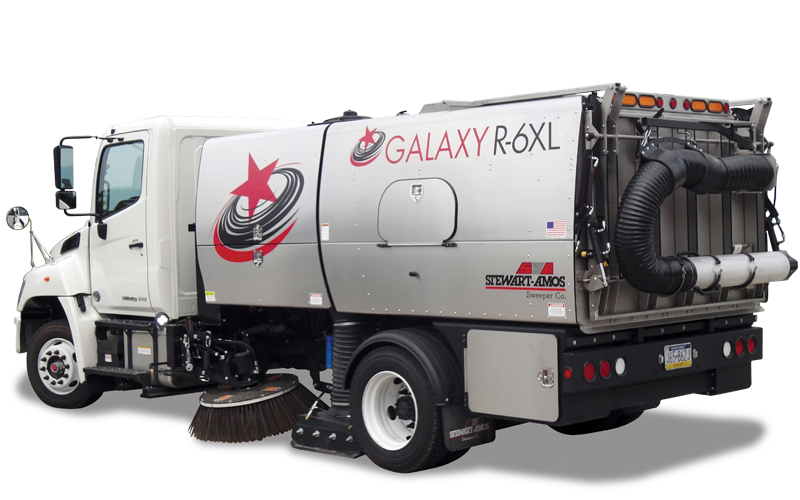 All Galaxy models are equipped with unique features designed to make your sweeping tasks safer, easier and more cost effective.
Three Galaxy Regenerative Air Sweepers. One Effectively Simple, Time-proven Design.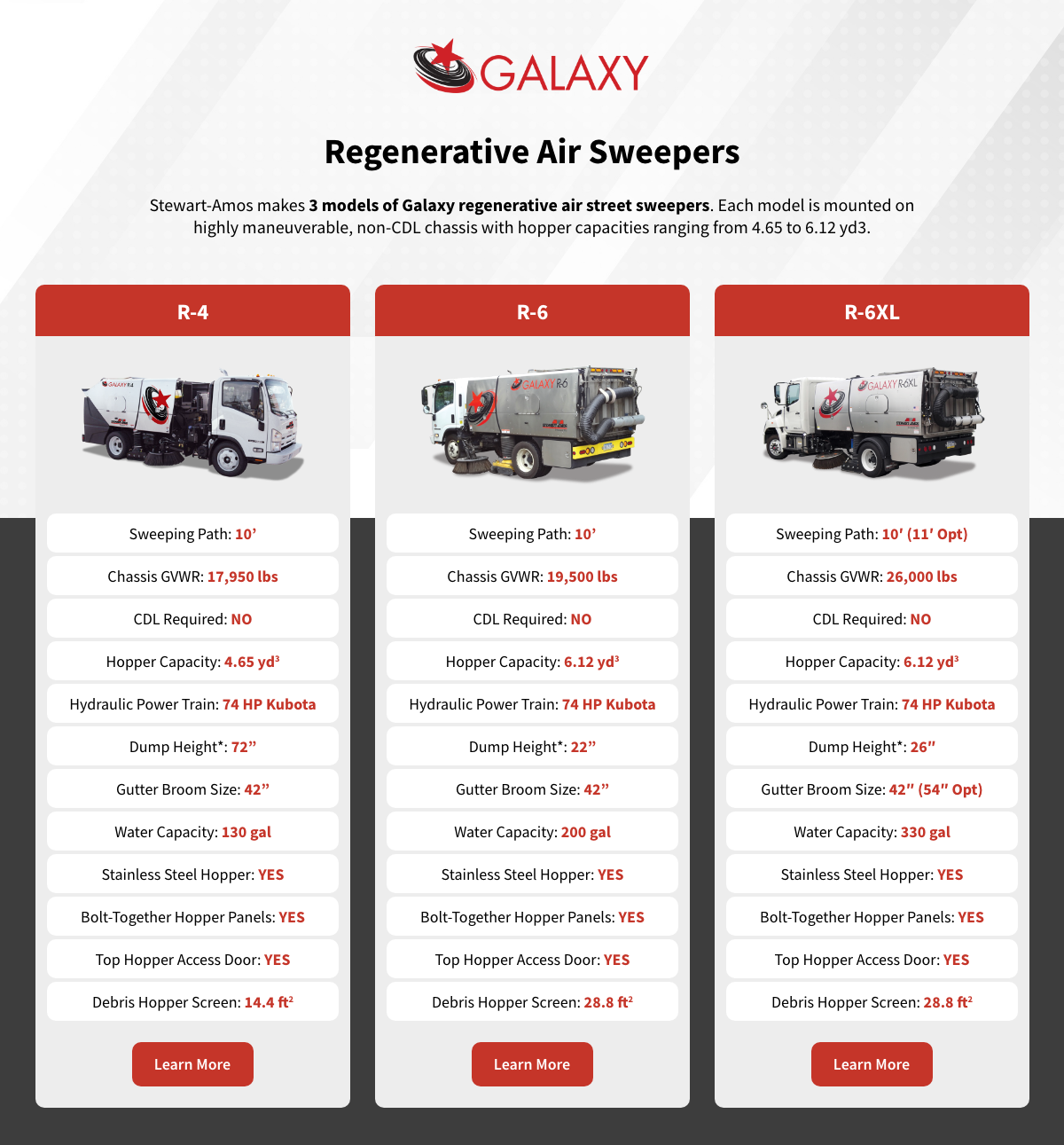 Choose the Right Regenerative Air Street Sweeper for Your Applications
Stewart-Amos makes 3 models of Galaxy regenerative air street sweepers. Each model is mounted on highly maneuverable, non-CDL chassis with hopper capacities ranging from 4.65 to 6.12 yd3.
Galaxy R-4
Our Galaxy model R-4 is a 4.65 yd3 high-dumping sweeper that is an excellent street/parking lot combination unit. The blast orifice-style sweeping hood generates a powerful airflow that is ideal for deep-cleaning streets and parking lots. Typical applications include roadways, culs-de-sac, alleyways and congested downtown areas.
Galaxy R-6
Our model R-6 has a larger 6.12 yd3 hopper and can be equipped with an 8", rear-mounted vacuum wand. The robust 74.3 horsepower Kubota diesel engine delivers sufficient power for demanding cleaning applications. The in-cab instrumentation and controls make this machine easy to operate and maneuver in all types of conditions.
Galaxy R-6XL
The R-6XL is the largest of our regenerative air sweepers and is mounted on a larger 26,000 GVWR NON-CDL chassis with "low profile" tires. It offers an expansive 10-foot sweeping path, enabling it to cover wider areas with ease. Other features include a 26-inch dump height, 42-inch gutter broom and 330-gallon water tank capacity.

All 3 models offer the following:
bolt-together stainless steel hopper panels
5-year no-rust through hopper factory warranties
hopper top access doors that makes screen cleaning faster, easier and safer
Though model sizes differ to fit different sized chassis, all share a high percentage of parts compatibility.  This helps us ensure the high level of parts availability our customers have come to expect.
High-Dump and Mid-Dump Sweeper Solutions
All Galaxy models are equipped with unique features designed to make your sweeping tasks safer, easier and more cost-effective.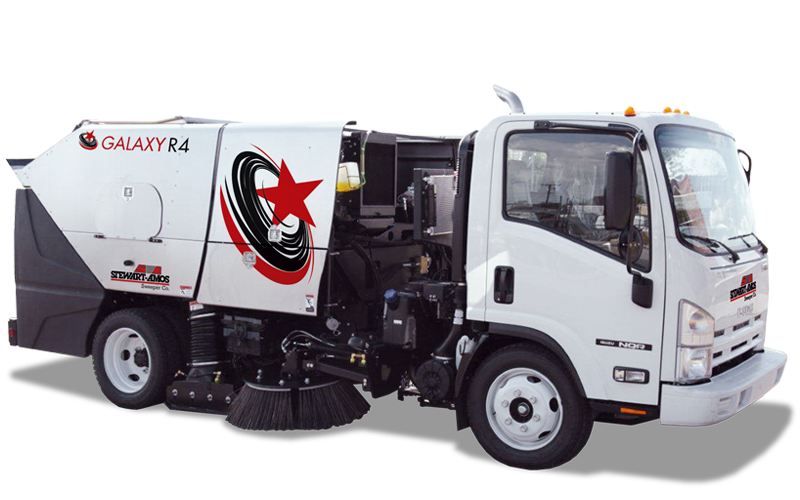 R-4
A Full-Featured, High-Dumping 4.65 yd3 Regenerative Air Sweeper mounted on a Highly-Maneuverable Non-CDL, Cab-over Chassis. Learn more.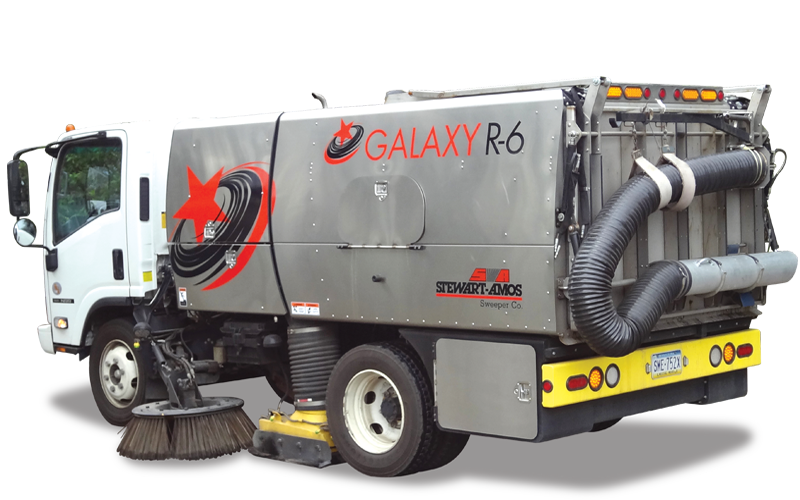 R-6
A Large-Capacity, 6.12 yd3 Regenerative Air Sweeper mounted on a Highly-Maneuverable Non-CDL, Cab-over Chassis. Learn More.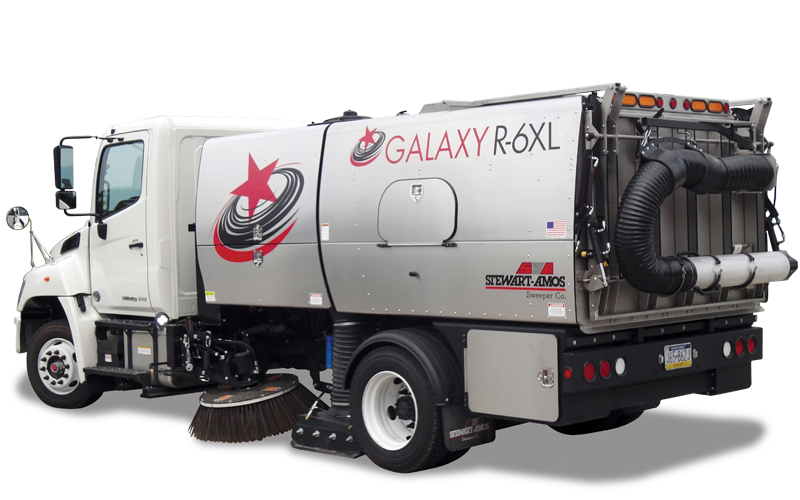 R-6XL
A Large-Capacity, 6.12 yd3 Regenerative Air Sweeper mounted on a Mid-sized, Non-CDL Chassis. Learn More.
Model Number
Sweeping Path
Chassis GVWR
CDL Required
Hopper Capacity
Hydraulic Power Train
Dump Height*
Gutter Broom Size
Water Capacity
Stainless Steel Hopper
Bolt-Together Hopper Panels
Top Hopper Access Door
Debris Hopper Screen
R-4
10′
17,950 lbs
NO
4.65 yd3
74.3 Kubota
72″
42″
130 gal
YES
YES
YES
14.4 ft2
R-6
10′
19,500 lbs
NO
6.12 yd3
74.3 Kubota
22″
42″
200 gal
YES
YES
YES
28.8 ft2
R-6XL
10′
(11′ Opt)
26,000 lbs
NO
6.12 yd3
74.3 Kubota
26″
42″
(54″ Opt)
330 gal
YES
YES
YES
28.8 ft2
Why Choose Us as Your Regenerative Air Sweeper Supplier?
Stewart-Amos Sweeper Co. has been providing high-quality street sweeping equipment since 1947. We take pride in designing and manufacturing effectively simple products that allow our customers to complete their cleaning projects faster and more efficiently. Our machines are easy to operate and maintain, and they deliver maximum uptime.
We design our air sweepers with compatible, interchangeable parts, making them easier to service. When you need to replace worn or broken parts and components, you can order them from the authorized Stewart-Amos Sweeper Co. dealer near you or directly from our headquarters in Harrisburg, Pennsylvania. If you choose the latter option, we can typically ship your products the same day if you place your order by 1 p.m. EST.
Our dealers can also provide ongoing support for as long as you own your air sweeper. You can count on their mechanical and technical expertise to keep your equipment in peak operating condition and extend its life span. You can even get access to training resources to help your crews use the machines productively, efficiently and safely.
Learn More About Regenerative Air Street Sweepers
Set up a no-obligation product demo today to find out if a regenerative air sweeper from Stewart-Amos Sweeper Co. is a good fit for your cleaning applications. Call us at 800-482-2302 or contact us online to learn more.
Learn more about our Galaxy Regenerative Air Sweepers. Download our product information sheets or watch our videos.