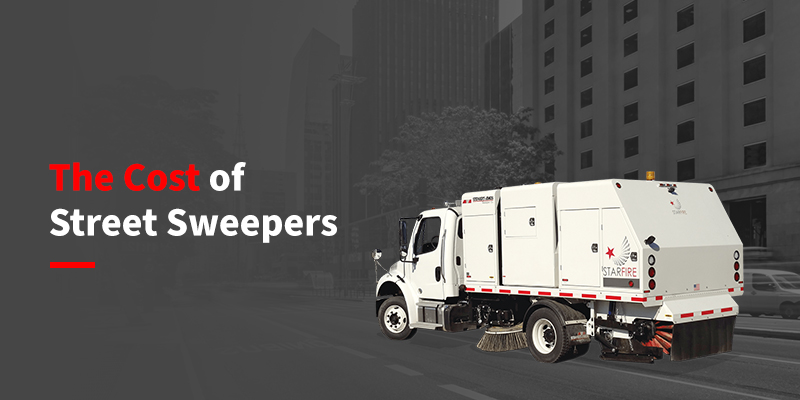 The Cost of Street Sweepers
Whether you are adding to an already existing fleet or searching for your first sweeper, it is essential to know what to look for before taking the plunge. To help you out, here is our guide to getting the best deal on your new street sweeper.
How Much Does a Street Sweeper Cost?
A street sweeper's price depends on several factors:
The type of sweeper
The specific model
The brand
Generally, a conventional mechanical sweeper will be your most affordable option, though it is also wise to consider how different aspects will add up to make the final cost — such as parts, labor and resources.
Conventional mechanical sweepers use rotating brooms and water sprays to remove debris from the street, including the gutter area. The brooms' abrasive action breaks down debris and sweeps the particles into the path of a conveyor, which then transports the material into the storage hopper. This method is most effective for settings that generate large-particle waste, like construction sites, highways and alleyways.
More advanced models like regenerative air sweepers tend to cost more since they use newer technologies. Regenerative air sweepers work by blowing bursts of air onto the pavement to loosen fine particles. The machine then vacuums this debris back into its storage hopper, where it remains until disposal.
The air cycles back through the sweeper's dust separation system, which filters the air and makes it suitable for reuse. These sweepers are best for deep-cleaning dry areas with small-particle debris, like parking lots and streets.
How Cost-Effective Are Street Sweepers?
The cost-effectiveness of your street sweeper ultimately depends on two things: how you use the sweeper and how well you maintain it. Most street sweepers are functional for about four to seven years, but their life spans can vary depending on these factors.
Concerning the environmental benefits a sweeper can have on your community, this equipment is exceptionally cost-effective. Sweeping is necessary for removing leaves, dust and other debris from roads and paved surfaces. Still, many people are unaware that street sweepers also remove harmful chemicals from these public spaces. This process directly benefits public and environmental health, which is priceless.
Street sweeping equipment is best suited to urban environments where other structural means of municipal cleaning are difficult or impossible to implement. According to the U.S. Federal Highway Administration, the best street sweeping schedule is weekly to bi-monthly intervals, depending on your community's needs.
What Should You Look for When Buying a Street Sweeper?
Before meeting with a dealer or working with a manufacturer, you need to conduct thorough research to determine which kind of sweeper is best for your needs.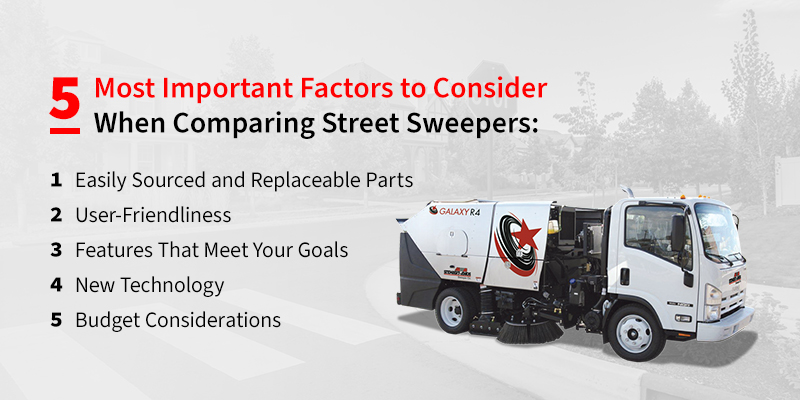 Here are the five most important factors to consider when comparing street sweepers:
1. Easily Sourced and Replaceable Parts
Street sweepers are big investments. Buying one is the start of a business relationship with your dealer, as they will be your point of contact for parts and servicing moving forward. To ensure proper sweeper truck upkeep, you will need to make sure you will have access to repairs, regular maintenance and replacement parts.
Some dealers will even offer training and certification courses to their clients, which is something else to keep in mind.
2. User-Friendliness
Choosing a user-friendly street sweeper can save you time and money by reducing your need for extensive training. Consider your current equipment. How comfortable do your operators feel while using it? If you or your operators find it is consistently difficult to use, it may be time to look for a simpler machine.
Even with a highly trained, experienced team, finding a sweeper with intuitive controls and easy-to-use features can push your organization's efficiency to the next level.
3. Features That Meet Your Goals
Knowing what you need is key to finding the right sweeper for the job. After all, each model has its advantages and considerations, so it is best to think about how these factors will affect your operation. Questions to answer include:
Where will you use the sweeper?
How fast does the sweeper need to work?
Is noise important?
How will you dispose of waste?
What kind of waste are you removing?
By evaluating your needs, you can narrow down your list of sweepers to only those that fit your specifications.
4. New Technology
Conventional methods are trustworthy for a reason: they have proven themselves as effective means for getting things done well. But it is always smart to keep an open mind about new innovations and technological advances in your industry.
By evaluating all your options, you can confidently choose the best possible choice you can get, whether it is conventional or high-tech. When speaking to a dealer or sales representative, ask them questions about new features that could make your job easier.
5. Budget Considerations
With all the options out there, making a decision can be overwhelming. Setting a budget limits your pool of potential choices, which can make the selection process much easier to manage. Industrial cleaning equipment is a big purchase, both initially and over time. However, if you go into the process with your budget in mind, you can find your ideal sweeper even within your allotted funds.
In addition to the initial cost of ownership, you will need to incorporate the following ongoing expenses into your budget:
Regular maintenance
Sweeper truck repair costs
Cost of operation
Labor expenses
What Company Makes Street Sweepers?
Since 1947, Stewart-Amos Sweeping Co. has developed and distributed road-building equipment, including street sweepers, to businesses across the country.
We have two main lines of sweepers:
Starfire Mechanical Street Sweepers: The Starfire line's exclusive 3-shaft elevator system extends chain life, reduces maintenance costs and enhances sweeping performance. Quiet and fuel-efficient, Starfire sweepers are excellent choices for various environments, including construction sites, city streets and even highways. We offer six models with hoppers of varying capacities to choose from, so you have options for any size operation.
Galaxy Regenerative Air Sweepers: The Galaxy line is designed with parts compatibility in mind, so these machines are easy to service and operate. Blast orifice hoods generate high-powered air bursts that enable the operator to pick up many different materials, making Galaxy sweepers ideal for parking lots and residential streets. Galaxy sweepers are available in three mid-sized models with hopper sizes ranging from 4.65 to 6.12 cubic yards.
We also offer servicing and parts through our dealers, so you can rest assured you can get help when you need it.
Contact Stewart-Amos Sweeper Co. for Your Next Street Sweeper
At Stewart-Amos Sweeper Co., we are dedicated to providing effectively simple solutions for all industries and applications.
Schedule a free demo to learn more about what sets our sweepers apart. You can contact us online or call us at 800-482-2302 to get more information.