Your sweeper works hard. Not only does it maneuver hard-to-reach crevices and areas, but it also risks breaking down, needs parts replaced and must be maintained to prevent further wear and tear.
There is value in maintaining your sweeper before it gets to that point as you use it more during the summer months when faced with harsher elements.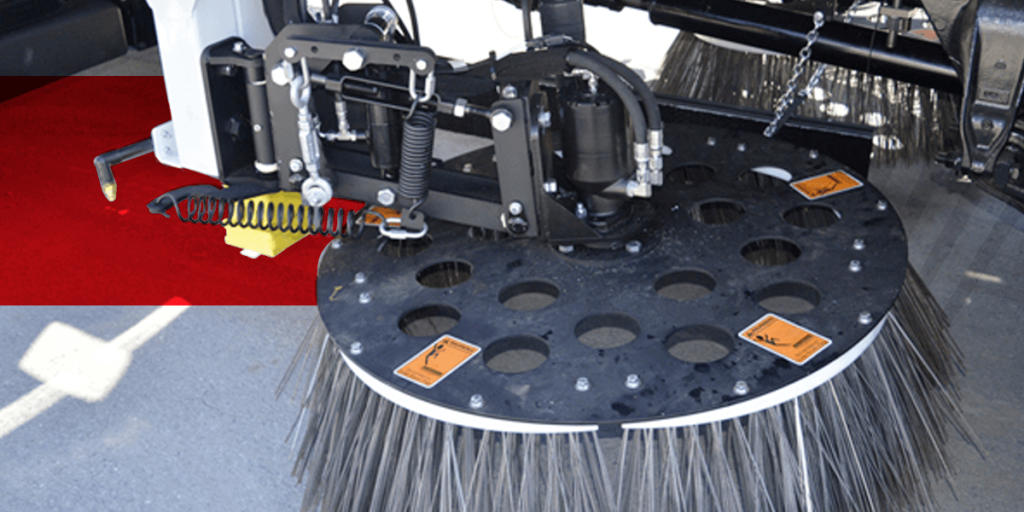 We have listed six summer sweeping tips below to help you maintain your sweeper and keep it in optimal working condition.
1. Inspect Your Sweeper
Before you send your sweeper out on the road, do an inspection to determine the extent of its daily wear. Depending on your sweeper model, inspect all moving and mechanical components, including:
Safety features like mirrors, lights and brakes
Engine and hydraulic fluids
Water filter
Brooms
Chains
Belts
Hydraulics
Conveyor
Fan blades
Tires
Your sweeper is in constant contact with hot tarmac, so be sure to check your tires' tread and pressure as part of regular summer maintenance for your street sweeper. Driving for extended periods in the heat may cause the tread to wear thin or add pressure in the tires.
Additionally, change the oil, flush the coolant system and lubricate all grease points as often as possible since all your sweeper's equipment and systems work extra hard under extreme weather conditions.
It may also be helpful for your operators to have a daily checklist if you own a fleet of sweepers, if they are not referring to the operator manual regularly. This way, each person is held accountable for checking and maintaining the sweeper they drive. Then, conduct safety checks to ensure your operators can do their jobs efficiently without any potential risks.
2. Consider the Temperature
Exposure to natural elements like heat, wind and humidity can cause extensive damage to any vehicle over time. Considering that your sweeper works especially hard during the summer with soaring temperatures beating down on it, pay close attention to the effects the heat has on your equipment. The chance of your street sweeper overheating increases if the oil cooler fan stops working.
We would suggest you schedule certain jobs around days and times when the temperature is cooler and there is less traffic and parked cars around. Of course, this is not always possible, but it could help keep your sweeper in peak condition in the long run.
3. Check Your Water
Your mechanical sweeper uses water to help the brooms collect particles and debris that are swept up into the hopper on a conveyor belt. Your regenerative air sweeper needs water in the suction hose for it to work effectively. Either way, water is essential if you want to get the most out of your sweeper's performance, as it reduces abrasion, which in turn extends the life of your sweeper.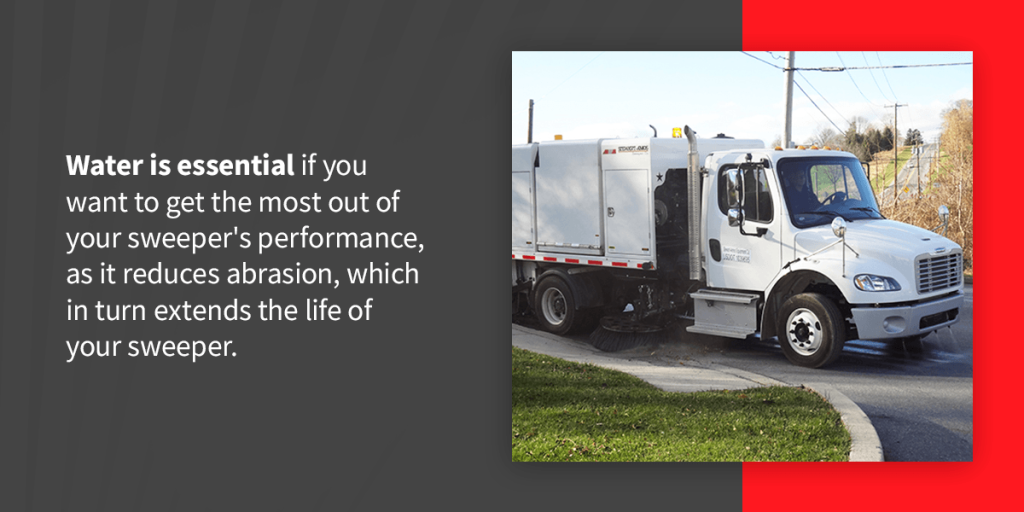 Make sure the water spray nozzles are clean and clear of any particles and the water tank is at capacity for the day. Water is used to spray the brooms but also clean the streets afterward, so the volume that is needed makes it an essential part of the street cleaning process.
4. Flush Your Fuel System
Based on the requirements of any given job, your sweeper covers long distances to get from one point to another. Whether it is cleaning neighborhood sidewalks, industrial sites or highways and then driving to a dump site, you need to consider the cost of fuel associated with each trip.
To get the most out of your consumption, flush the fuel system at the beginning of the season and replace the fuel filter before it becomes an unnecessary expense that will hurt your pocket further down the line.
As a rule of thumb, driving habits like idling time, cruise control, speed limits and alternative routes impact fuel economy. Essentially, driving slower and more mindfully can save you on fuel costs.
The conveyor system may also take a beating with the constant movement and transport of debris, so it would be useful to have a look at the belt and chain from time to time. They should generally be cleaned as part of the maintenance process.
5. Take Care of Your Brooms
The brooms' function is to collect debris and material along roads and pass it into the hopper, so they are built using hard materials like steel wool and polypropylene.
Check your bristles to see if there is any debris stuck that may cause an issue during the uptake. Larger pieces can be lodged in the pickup head curtains, meaning you might have to stop to remove them manually. Since sweepers generally pick up smaller particles of debris like coarse sand, gravel and litter, they oscillate at high speeds so they do not miss anything along the way.
Brooms do the bulk of the hard work, so consider this when you need to replace them. It is better to invest in decent, high-quality brooms that will last longer than opting for the cheaper alternative to save money. 
6. Replace Old and Worn Parts
There are certain components that may need to be tossed. Keep in mind that it could become costly. That is why regular maintenance can ensure your sweeper works harder for longer. Common items that need to be replaced include:
Brooms
Windshield wipers
Light bulbs
Mist spray nozzles
Seals
You might also need to consider larger moveable parts that need to be replaced if not maintained for extended periods, such as:
Fans
Fan bearings
Fan blades
Hydraulics
Suction hoses
Conveyor belts
Mechanical and engine parts
By replacing these and other parts that have become old, worn or damaged, you can prevent further street sweeper problems. It is also a good time to check that your fleet's air conditioners are functioning to ensure driver comfort.
Contact Stewart-Amos Sweeper Co. for New Sweepers or Parts
We know what you have to deal with when you are facing a problem with your street sweeper, whether you own one or an entire fleet. Parts can be expensive and often take time to be shipped. Sometimes, they simply do not fit your model.
The team at Stewart-Amos Sweeper Co. has the solution. We can diagnose issues with your sweeper, and we offer demonstrations to help you decide on a suitable model if you are looking to purchase a new one. Our range of interchangeable parts can be used across our selection of models, and we can ship many parts the same day.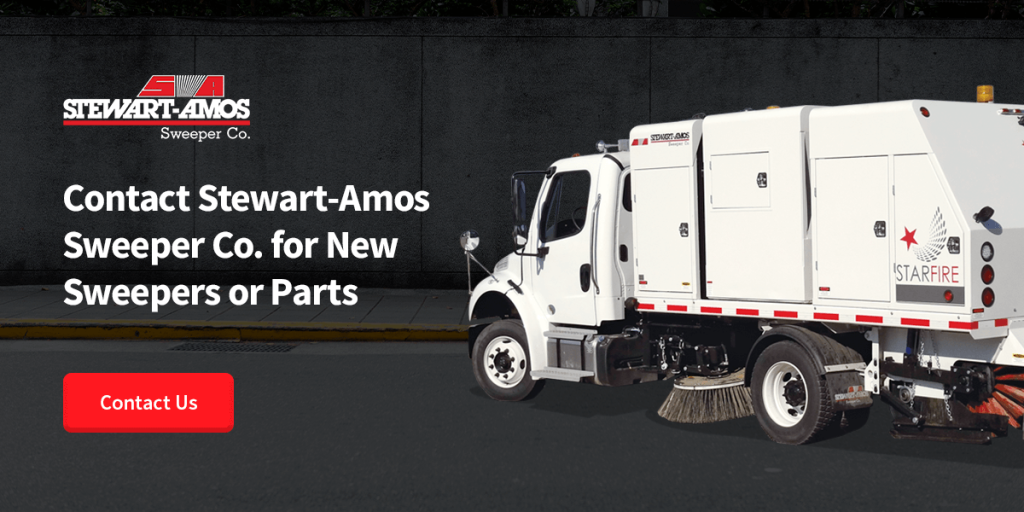 At Stewart-Amos Sweeper Co., we provide street sweepers that are easy to operate and simple to maintain with affordable off-the-shelf parts. Contact us today for more information on our available sweeper range or for a demonstration.